The write up belowÂÂ describes the current situation in Punjab based on my recent visit. Though being the richest state or it's also called the bread basket of India, but the living conditions are far from being desired. DuringÂÂ the visit, i also had an opportunity to share some of my thoughts and ideas on environmental issuesÂÂ in a village in Punjab andÂÂÂ there were also sessions on Introduction to Internet/ IT as well as Training for a Marathon. This sessionsÂÂ were conducted in PunjabiÂÂ (native language of Punjab), i would also endeavour to do this in English. Please click the link below to view it on youtube.

Introduction to IT and Internet in Punjabi Part 1
http://www.youtube.com/watch?v=PKSY_YY36pE

Introduction to IT and Internet in Punjabi Part 2
http://www.youtube.com/watch?v=sczyLwLFhS4
ÂÂ 
Introduction to IT and Internet in Punjabi Part 3
http://www.youtube.com/watch?v=lKh8lQFIGPc


Introduction to IT and Internet in Punjabi Part 4
http://www.youtube.com/watch?v=NOc3-kq2T7c

Introduction to IT and Internet in Punjabi Part 5
http://www.youtube.com/watch?v=JfYzj22J1Mc

Introduction to IT and Internet in Punjabi Part 6
http://www.youtube.com/watch?v=RvR1bEqHSR8

Introduction to IT and Internet in Punjabi Part 7
http://www.youtube.com/watch?v=mzyrhhwWEr4

Training for a Marathon - Explained in Punjabi Part 1
http://www.youtube.com/watch?v=pn1BvA_KcAs

Training for a Marathon - Explained in Punjabi Part 2
http://www.youtube.com/watch?v=U7YTQd-k2ow

Infrastructure and Environmental Issues in Punjab, India - Part 1.wmv
http://www.youtube.com/watch?v=ukt8RoeKb4o

Introduction to Movie Making and Broadcasting in Punjabi
http://www.youtube.com/watch?v=vg-ZE5B9Wic

Closing Remarks on IT Presentation in Punjabi .wmv
http://www.youtube.com/watch?v=sS8calapUG8
ÂÂ 
Infrastructure Issues in Punjab

The infrastructure in Punjab is far from being desired especially roads, pollution, water supply, sanitation and electricity. The following notes are experiences of most visitors (NRIs) who visit Punjab on a regular basis.
1. Electricity
ÂÂ 
Most villages do not have power supply during the day which includes schools and small hospitals or clinics. If ever there is power it is only at night. This leaves little choice especially for institutions or organization that would need power continuously through out the day such as banks, hospitals, schools – but to mobilise their own generators as an alternative source. India being a net importer of oil, the cost of running a generator is expensive or only the elite could afford it. Part of this problem is attributed to the perception of general population that they should not pay for the electricity; the mindset of people has to be changed so that they understand that you got to pay for services provided. While India is facing a power crunch, they should be looking at alternative sources especially solar and wind which has been widely used in most parts of Europe.
ÂÂ 
2. Water Supply
ÂÂ 
Over the years the water table has dropped significantly in most parts of Punjab. There was a time in 1960s farmers were able to extract water using manual methods, i.e. bulls used to turn the buckets (Halts/Thindhas), the depth of water was approximately 10m. The current water table is generally now at 30m which is extracted by electrical motors. However, the situation has further deteriorated that the centrifugal pumps are now being changed to submersible pumps as the capacity of this pumps are lower. In spite of changing to submersible pumps (in Punjabi is called Machi Pump), the power cables are not able to provide sufficient power as the diameter of the cables are the same, which results to an overload.
ÂÂ 
Drinking water is similarly in dire states so much so that most villages have elevated water tanks which extract water from a depth of about 100m. The depth of drinking water has increased partly due to the infiltration of chemicals (nitrates, phosphates etc.) into the ground water table.
ÂÂ 
Thus, the situation of drinking water and irrigation of farms in Punjab would only worsen unless remedial measures are put in place in more systematic manner. Some of the measures include - educating the population in controlling wastages, building or to bund lakes for long term storage, dispersing water from the 5 major rivers so that its usage is maximised.
ÂÂ 
3. Sanitation
ÂÂ 
India in general lacks proper sanitation where water borne diseases such as diarrhea, cholera etc. are rampant in most parts of the country. It has been reported that over 700million people have no access to basic sanitation, i.e. three out of four Indians.
ÂÂ 
Small townships or villages need a proper sewage system whereby wastewater discharged from households are channeled into a piping system which eventually goes into a Sewage Treatment Plant (STP). Proper standards need to be established for the effluent that leaves the STP so that the water that goes back into rivers does not have microorganism or chemicals that could cause harm to people.
ÂÂ 
Punjab would need installation of toilets known as the Sulabh – a twin pit, pour flush toilet developed by Sulabh Sanitation Movement which requires 1.5 liters to flush instead of 10 liters.
ÂÂ 
4. Roads and Pollution
ÂÂ 
The general road situation in Punjab is below par as compared to most developing economies such as China, Russia and Brazil. The road width and road base does not meet the normal standards adopted globally, in which roads are not wide enough to cater for two way traffic. The minimum standards are 7m of pavement with earth shoulder of 3m on each side. The continuous plying of buses on heavy lorries on these roads, rendered the road to be riddled with potholes and undulation. Maintenance is generally lackingÂÂÂ which leads to broken and damaged roads. The pollution of the environment is in a way related to the maintenance of the roads. The breakup of the blacktop surface exposes the earth which pollutes the environment when vehicles travel on the roads.
ÂÂÂ 
Flowers - varity of species and colors at a Sikh Temple. The dates shown on some of the pictures are incorrect, should be end March 2010.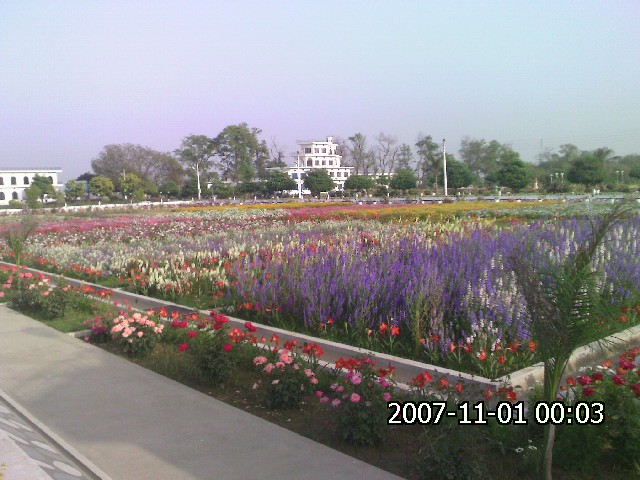 Rich In Architecture - Domes and Fascade of Sikh TemplesÂÂÂÂÂÂ and white signifies pure, peace and calm.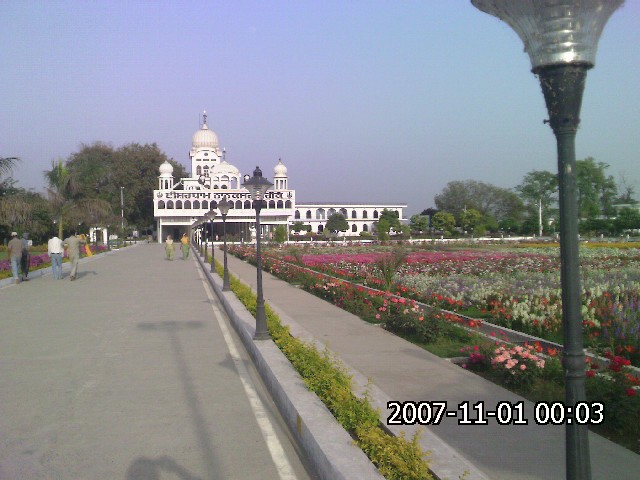 The Golden Temple, Amritsar. The four doors to the temple symbolises that it's open to the entire humanity. The only requirement is that one must cover his/her head and must not be intoxicated.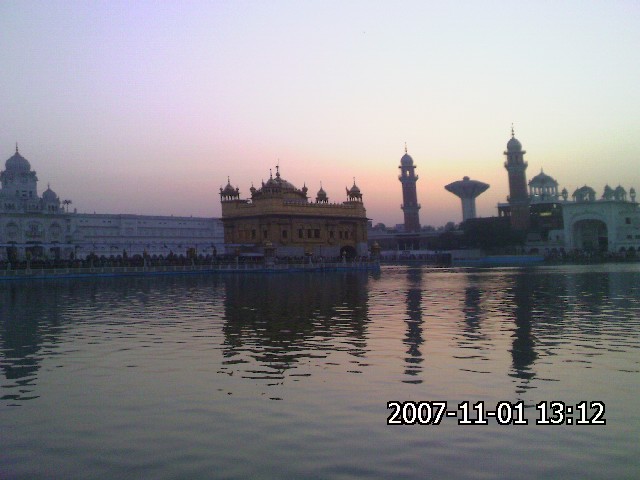 Perimeter of the Golden Temple isÂÂÂÂÂÂ about 600m, there is a causeway that leads from this perimeter
to the Golden Temple. Please visit http://en.wikipedia.org/wiki/Harmandir_Sahib for further information.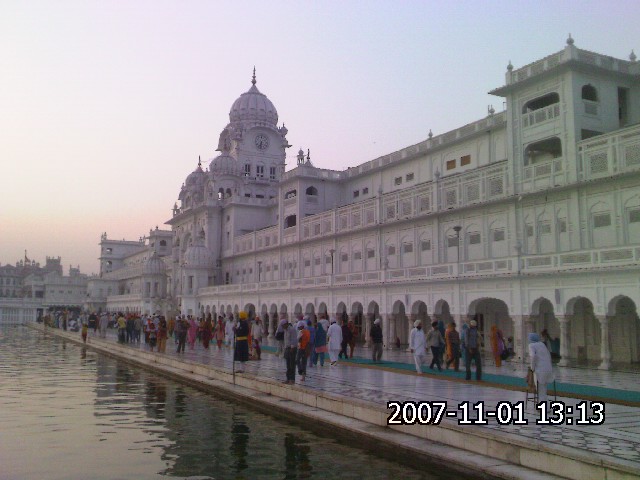 A smaller replica of a Hindu Temple - Durgiana Mander built about 2km away from the Golden Temple.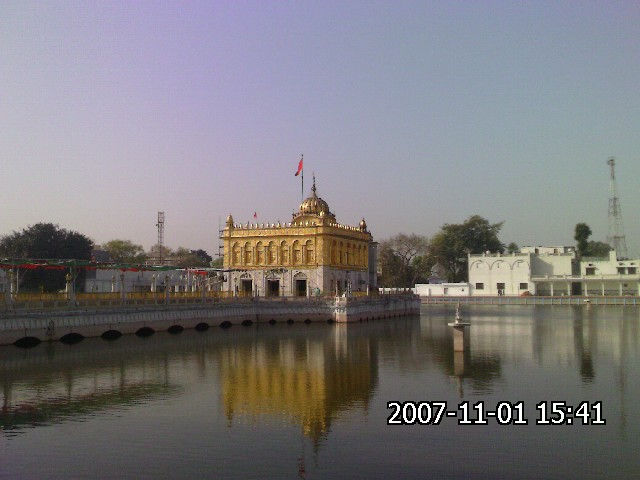 Visited the temple with 2 cousins from Canada (Taranjit Kaur and Gurkirat Kaur)
Typical farmland in a village in Punjab. No portion of the land is left uncultivated. During winters -ÂÂÂÂÂÂ main crop is wheat and vegetables such as cauliflower, potatos etc. and summers is rice.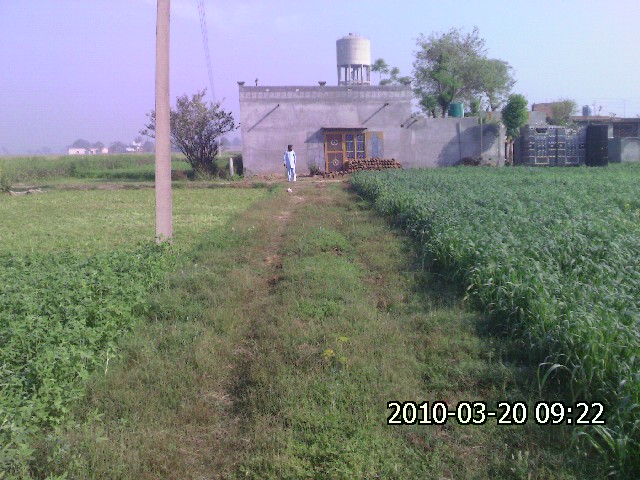 Wheat ÂÂÂÂÂÂ has almost reached it's final stage, harvest is in mid April which coincides with Vaisakhi celebration.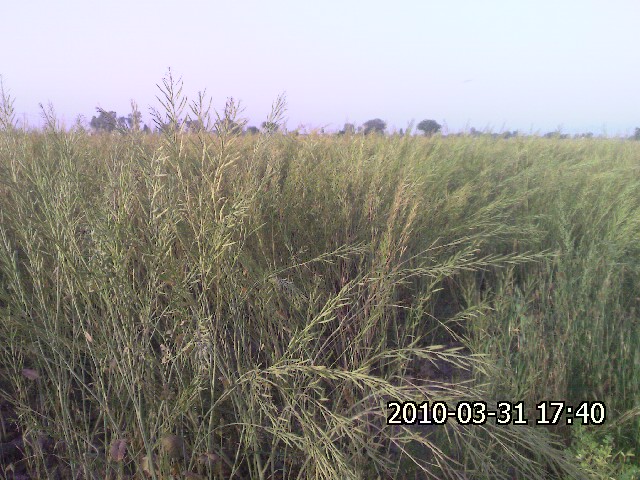 Water extraction with tube wellsÂÂÂÂÂÂ and submersible pumps.ÂÂÂÂÂÂ  DepletionÂÂÂÂÂÂ of water withÂÂÂÂÂÂ water table
going deeper hasÂÂÂÂÂÂ become a serious issue not only in Punjab but worldwide.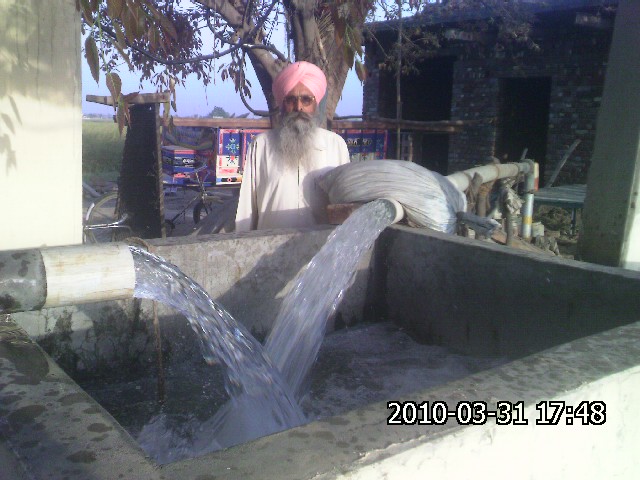 The village head (or called Serpanch) Charnjit Singh showing a clove of garlic.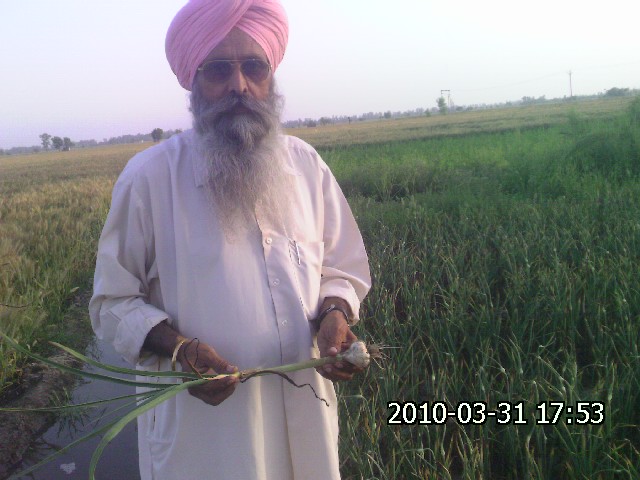 Activites such as horse riding, cricket, kabadi (wrestling) are some common sports in villages.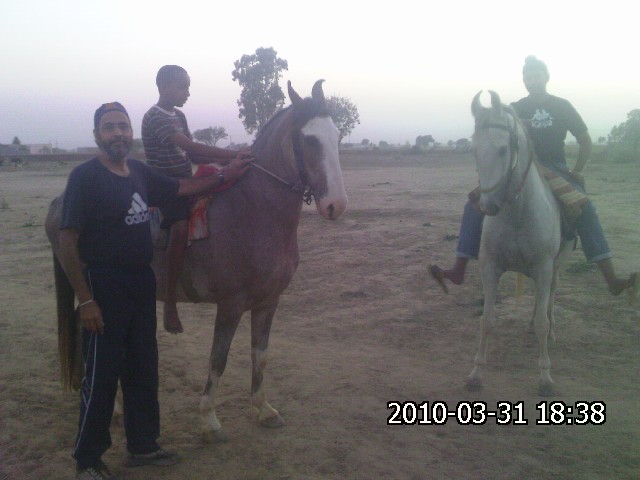 Beside cultivation, dairy products are also a main source of export from Punjab.